Antoine de Baecque would become canonized at Cahiers for writing its definitive history and then publishing exhaustive biographies on its key New Wave figures (so far there's ones on Truffaut, Godard and Rohmer; and I'm sure that Chabrol and Rivette aren't too far behind). Michel Cieutat quite nicely captures his reputation in La critique de Cinema en France (Ramsay Cinema). But before all of this, and before his violent rupture as chief editor in the late Nineties (Cf. Fissures at Cahiers), and before his lengthy tenure there just as a critic, he was just a young cinephile, who wanted to get published in Cahiers.
De Baecque's first published critique in Cahiers dates from December 1984

and it's on Souleymane Cissé's Baara. As de Baecque describes it, "when Truffaut died, on the 21st of October 1984, everyone was shocked. So I sent my first review to Toubiana, to Cahiers, which was Truffaut's house. I had to send something to Truffaut's mailbox."
After his entrance in the magazine, with his friend Stéphane Braunschweig (who, in his own right, would later become an important theater director), they would specialize in writing Entre deux films articles, which as the title suggest, are interviews with key Cahiers directors between projects. The first one of these would be with Jean-Claude Brisseau and then the others include Catherine Breillat, Lam Lê, Jean-Pierre Mocky, Luc Moullet, Alain Tanner and Souleymane Cissé. These articles capture these various directors at a particular time in their career and they provide insight on how the directors would stay afloat between projects (e.g. Brisseau would teach cinema classes) and also the difficulty that they can endure to make a film (e.g. Cissé describes natural disasters and deaths during the production of Yeelen).
This was the period where the Daney critics were slowly moving away from the magazine towards other projects and a new generation of younger ones were arriving. There was Michel Chion and Alain Philippon who both joined in 1981. But more precisely these new 'Toubiana' critics arrived a couple of years later with Marc Chevrie and Vincent Ostria (both 1983) and then Hervé Le Roux and Antoine de Baecque (both 1984). There would be more of them to join, as the decade would continue, but these four offer a representative sample of the way the new Cahiers critics would come to impose themselves at the magazine.
A lot of these writers would first start off by writing shorter Journal pieces or Notes critiques. And then slowly they would come to write more about the films and directors that are important to Cahiers. The team of writers is generally small and what makes Cahiers so unique, when it is run properly, is that the critics propose a unique approach to cinema, they propose a unique way to see a film. Cahiers then becomes a place, which is mixed with different generations of writers, and even though they might share different ideas, they still come together as a group, and what makes it exciting is to read how they respond to contemporary cinema and produce these dynamic film reviews, which compels one to go out and discover these films.

The previously mentioned Entre deux films articles is just one example of this. In the Journal section, aside from its journalistic role, these features allowed for experimentation with a new writing style and a place for De Baecque to discuss the directors of his predilection. De Baecque would place himself 'between' these Cahiers auteurs to then best impose them later on in Critiques.
De Baecque's writing style is both traditional and literary. His critiques seem to revolve around three key tenets: a Bazinien spirituality of the image, a theatrical understanding of an actor's work and gestures, and an appreciation for space and natural landscapes. The latter two interests arise from his background in theater and nature walking (Cf. La traversée des Alpes), though his university background in history would not be clearly apparent. Instead of writing on the major Cahiers auteurs, de Baecque would find a place at the margins of the magazine at first by championing mostly African and Asian films, which are partly in the poetic-religious vein of Tarkovsky (though this connection is never made explicit).
Some of de Baecque's early Critiques include: Shohei Imamura's Why Not?, Michael Graham's Aspern, George Miller's Mad Max: Beyond Thunderdome, Chen Kaige's Yellow Earth and King of the Children, Norman Jewison's A Soldier's Story, Philip Kaufman's The Unbearable Lightness of Being, John Huston's Prizzi's Honor, Luigi Comencini's Cuore, Kiju Yoshida's Wuthering Heights, Luc Moullet's La Comédie du travail, Yoshishige Yoshida's Promesse, Nikita Mikhalkov's Dark Eyes, Pierre Étaix's L'âge de Monsieur est avancé and Martin Scorsese's The Last Temptation of Christ.
De Baecque's critique of Cissé's Yeelen perhaps best illustrates his skills as a critic and how he was able to find a place for himself at Cahiers. After having reviewed the first Cissé film at Cahiers (e.g. Baara, see my translation below) and writing an Entre deux films on Cissé, in this review of Yeelen, after gracefully discussing Cissé's mise-en-scène and highlighting the spirituality of its natural lighting and locations (aligning himself with a classical Bazinien philosophy), de Baecque concludes by announcing the birth of a new national cinema. This might even recall some of Godard's statements on the potential of African cinema (Cf. Godard in

Cahiers

N.300)
In the review, Cela s'appellle l'aurore, de Baecque writes,
"After the traumatic, the cataclysm, the world renews itself in a calm and in a golden light. It is the sunlight that permits this miracle of the birth of a new world. This new light provides a soft clarity from a sun that renews and warms the beings under it and makes them hope in life. Yeelen is the film of this miracle."
De Baecque describes the film as both mythic and tragic, and on its unique tone, writes, "Yeelen is a film done with grace, it belongs to the divine, and there is a lightness to how it unfolds." He concludes, "For Cissé, the last scene has a special importance, the light that shines is always auroral, simple yet tremendous, innocent and clear. To answer the question 'What is light?' Cissé wants to answer in terms of an aurora. This is where comes the film's veritable birth: that of African cinema."
But de Baecque isn't the only important new writer in this period. Vincent Ostria, for example, stands out for having written the Critique of one of the best Canadian films of this period, Francis Mankiewicz's Les Bons Débarras. (It regularly makes it on TIFF's Top Canadian Films list and Jean-Marc Vallée cites it as a major influence). Ostria's generous and thoughtful review, Terroriste d'amour, is in the December 1985 issue (N.378). In it he discusses the difficulty they have to see Quebecois films in Paris, "We haven't really discussed Quebecois cinema since it has been trendy in the Sixties. Today, very few films actually arrive to France. Too few, actually… It took five years (!) for this film to come out normally in our halls, in a small Parisian circuit." Ostria highlights the script by Réjean Ducharme and the exoticness of the Quebecois language, which is subtle in detail. He highlights its simple stories and the richness of its characters, and especially highlights the little girl, "The gaze of this girl (Charlotte Laurier, amazing in how she's a polymorph, she eclipses all of the other actors) on the world and on objects is terrible." And on Francis (the nephew of Joseph L.) Mankiewicz, which he compares to Cassavetes, "he puts into perspective with a great attention this authenticity and raw truth of these three characters." For Ostria the film is about how, "Love, is war."
While Hervé Le Roux stands out pretty early for an Événement he did on 'Made In New York' directors, a subject which is still being renewed at the magazine today. Jim Jarmusch, with his European gaze on American culture (which makes him similar to Wenders), would be an exciting discovery in this period. Le Roux gave him his first cover for Stranger than Paradise (N.366).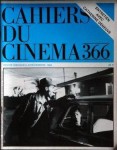 The way that Jarmusch would evolve at Cahiers is pretty impressive. Yann Lardeau, reviewed Permanent Vacations, which he really admires ("An intensity that is so particular, singular, and all encompassing"), Le Roux stars him in the Événement on New York independent films, along with Jackie Raynal (Hotel New York) and Bette Gordon (Variety). Le Roux describes all of these films as a jour, in touch with our times. Le Roux in his review En route vers l'est is subtly able to integrate Jarmusch into the Cahiers cannon by highlighting how his aesthetic fits the one of the magazine.

He compares Jarmusch to Skolimowski (Moonlighting) and Polanski (Deux hommes et une valise). But what Jarmusch brings that is new is how his films are punk and his use of music. For Jarmusch there is a new freedom but, like with Leos Carax, it's already lost. Le Roux writes, "Jarmusch, by his tact, by his minimalism (the black and white, the fade-outs, the refusal to be formalized, a taste for the small) joins him with Carax in another pursuit: to grasp, without loosing one's self, a little bit of fresh air." Iannis Katsahnias would go on to review Down by Law. He would be an important director to look out for in the period ahead.
Antoine de Baecque on Souleymane Cissé's Baara.
Cahiers Critiques: Balla le pousseur, Balla l'ingénieur
(Cahiers du Cinéma, December 1984, N.366)
The Malian has a beautiful body. Long, thin, airy. He also knows how to use it. He moves around in elegance, slowly, as if he was in total control of his gestures. We sometimes have the impression that he naturally walks in slow motion, with a dignity that, to the European who is always busy, recalls an African prince.
Balla Diarra and Balla Traore, the main characters in Souleymane Cissé's film Baara, possess an aerial dignity. From the first shot in the film, we notice Diarra's body, his naked back while he's sleeping. Then the two men slowly walk towards the front of the frame, towards a fire, which blurs our visibility – this brings the film into the realm of dreams where bodies escape it.
But with Cissé, there is a natural elegance that quickly takes place through the most quotidian work gestures. Balla Diarra is a worker. He pushes his chariot through Bamako, from the market to the factories and its residential neighborhoods.But, more often then not, he observes: he assists, passively but presently, to the disputes between the women in the market, he waits in front of the factory while waiting for passengers. It's slowness that characterizes his body, a slowness of the gesture, a gaze under heavy eyelids, a slowness, which, as always for him, has a use: to act, to gaze.
Balla Traore, is an engineer, who has just returned to the country after his studies in France, who wants to 'reorganize' the textile factory.
To reorganize, here again, is to impose a certain slowness: less frantic, less work hours, and a diminishing of work hours. To impose at the factory a function that's European mixed with a slowness of the African gesture.
The two Ballas, the cart driver and the engineer, fortunately meet, by chance, while they are transporting bags of grain to his wife. The two men notice that they are similar: they share a sense of humor, which unites them. Their two families have bonds, and this goes back to their ancestors. They are so close that everything becomes possible, they even hurt each other: treating the other like a slave, for example. And this, contrary to what we would believe, doesn't create a hierarchy between both men, it isn't embarrassing, and it isn't one of a master-slave relation. There is a hierarchy, but it's not that of a family, it's social.
Balla Traore is named responsible of the factory by its director, who is villainous, which comes out through his relationship with his wife (who cheats on him), more so than due to his actual work. Balla Traore profits from this to engage Balla Diarra into the world of the factory, a world which will use his body in a whole new way.
This mobile and light body is never stuck. It's suddenly overcome by brisk irruptions of violence, like those of the Africans, which are overcome by frenetic fits, in Jean Rouch's Les maîtres fous (1955). This is a madness that can lead to a ritual sacrifice. Cissé imprints these bodies with an attitude that is subtle, improvisational, and which can't be ceased. This African attitude, just like slowness can also be, is principally intervened in the work of the women. It is the women in effect that, usually, provokes this violence. They laugh loudly, insult each other and fight, they make crude jokes, are obscene, and take lovers. This is an open violence that is always expressed with nonchalance. The acting of the women is theatrical to the extreme, but is 'naturally' theatrical: Cissé films women who act in front of a neutral camera, which is posed right in front of them. It's only the women that have the right to scream or laugh briskly. This is a conjunction that's essential for Cissé, and which give all of his films this freshness that's close to a constant improvisation. There is a masterful lightness that becomes the most evident sign of love. It's almost carnal, for both the camera and the actors.
Men also, sometimes, are able to let themselves go. But there, far from the noble violence (because its theatrical) of the women, it is ridicule: to satisfy a simple passion, the factory owner, strangles his wife and finally compromises all of his life. The man would naturally be calmer. He uses his body like a slow pendulum, and not like a rapid tool. And his slowness in which he acts, gives him a formidable sensibility to things. And these objects, which he touches, he feels them with his whole body, directly, without any intermediary: the African eats with his hands, without any utensils, and he likes to play with his food. It is the mediation which is strange, which is violent. The introduction of Diarra, who wants to Europeanize the textile factory, is marked by this, from the start, by the mediation of objects. The first shot of Diarra working in the factory is a close-up of his hand surrounded by rubber, which is just as free as when it's playing with fruit. Diarra manipulates these products dangerously, which are sticky and sharp. The irruption of the object, is the violence: the product is estranged to the corporal universe of the Malian.
Diarra takes part in a painful learning process from the other urban world, from this work in factories. This work that breaks the body, which deconstructs the corporal primitive into pieces. The body, in the factory, changes. The workers tend to be really skinny (the machine kills those who are too weak) or full of muscle (the stronger ones tend to resist and become even stronger with the contact of the machines). The body looses its elegance and becomes disproportionate, whether really skinny or massive.
Through this enigma of the body, its ability to connect breaks up, its all of this practice of cohabitation, which isn't good, that it is brought out to light and denounced (though Cissé is more just presenting it, then is he trying to fight it, which gives it its elegance and efficiency). There are two types of societies that are constantly mixing. In the city, first: beside the large offices, there are regular street people. In terms of fashion, then: there are two customs that constantly coexist: the African robe, which is both suggestive and modest, where the body is free, and then there is the European costume – though, which is profoundly marked by an African sensibility: it isn't through their wardrobe that the rich style themselves, but with clothes from the big stores 'Tati', where products are sold in French supermarkets: there is a lag that marks the specificity of a culture which chooses what it wants from the European culture. This coexistence has never been better shown then in the scene where Djénéba, the wife of the factory owner, puts French makeup on, and then perfumes herself more traditionally.
And it's in this ritual combat, which has itself become ritualized, between Europe and Africa, where we find our drama: Balla Traore, who has become responsible for the factory, brings with him his new methods: democracy and fraternization. These are methods that are quickly condemned by the director, who then no longer trusts Traore and gets rid of him, beating him to death. This awkward crime is discovered by the factory workers, who, in solidarity, desperately chase him (which is stopped by the intervention of the police). He's forgiven by an old worker, who barely has any power. This presence reaffirms old traditional hierarchies of the senior, which is different then that of the one of the factory, where one must respect the boss.
The intrigue closes. Traore is dead, and the director is stopped (for the murder of his wife, more so than the one of the engineer), and Diarra returns to his first job. The intrigue progresses throughout the film in moments, simply and with evidence. This intrigue could have been guessed by all spectators, but which Cissé, still leaves room for subtlety. Because the story of this encounter between these two men was made possible by a skillful talent, one that is nearly incredible due to Souleymane Cissé. The elegance of the bodies, is the elegance of the filmmaking, first off. This filmmaking, which always surprises, the spectator and also the director. This game of playing, incessant ruptures that surprise the spectator and the actors, it is Cissé that provokes them, in his search for the improvisation on the faces and the bodies of his African actors (the long shot by the water is all the while innocent, suffocating, exhilarating, painful, and continues the rhythm of the film). The progression of the story owes everything to the good desire and the camera mobility of Souleymane Cissé.