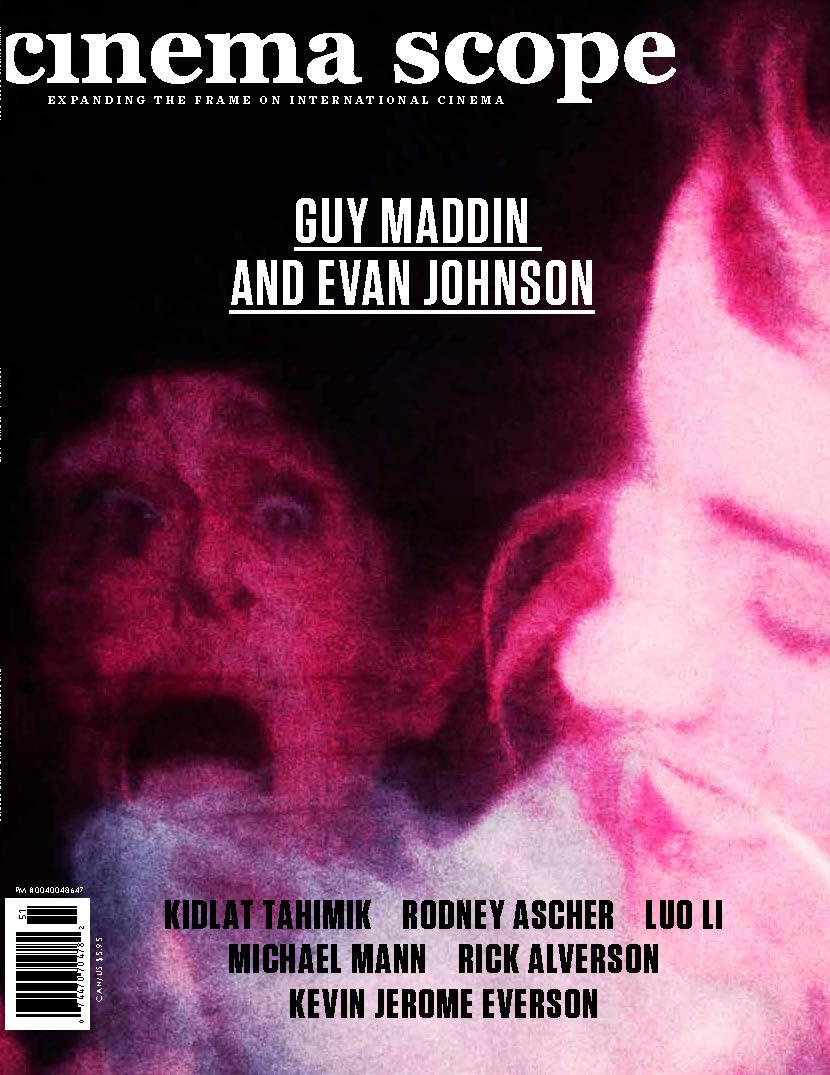 So the new Cinema Scope is now out and it's a great overview of what's been going on in film culture since their Winter issue (whose cover film Pheonix is still a couple months shy of getting a theatrical release). In it there's coverage of the Sundance, Berlin and Rotterdam film festivals, new releases, more obscure films (Nils Malmros), and what's exciting in the world of DVD releases (Don't Look Now, Sauve qui peut (la vie)) and film book publishing. Guy Maddin and Evan Johnson's The Forbidden Room gets the cover, and in Mark Peranson's introduction to his interview with them he describes it as, "With few points of comparison, it stands as a proposition for what cinema is right now and what it can be, a fully digital work that resembles some (mostly) imaginary past as processed through the human mind and machine software – like sands in an hourglass, these are the days of our lives." Andrew Tracy, in his characteristic way, analyzes the cult of personality around Michael Mann and problematizes Blackhat. The Mubi guys Adam Cook and Daniel Kasman interview Kidlat Tahimik for Balikbayan #1 Memories of Overdelopment Redux II. Blake Williams writes about his recent experience in Park City, "In fact, against all odds, with over a third of the works I saw on my trip meeting the minimum requirements of being "good," the overall quality of the films in Sundance 2015 was, even shockingly, tolerable." My only concern is his description of the new Ross Brothers picture, Western, as "the only film to genuinely disappoint… I'm chalking this one up to a belabored post-production marathon rather than a creative regression." Well I was really looking forward to it! And Sean Rogers continues to bring his comic-book sensibility to the magazine: after an interview with Blutch, a look at its aesthetic in the films of Alain Resnais, he now reviews the new Criterion Designs. And this is among many other equally interesting articles.
The upcoming spring festivals in Toronto have their own anticipatory pieces: Michael Sicinski reviews Kevin Jerome Everson's Park Lanes and Shelly Kraicer discusses Luo Li's Li Wen at East Lake which are both playing at Images. And Adam Nayman interviews Rodney Ascher for The Nightmare and Williams brings up Western, which both will be playing at Hot Docs.
Cinema Scope
continues to provide an excellent window into contemporary film culture by isolating what's really exciting about it.