August Film Listing
Bytowne Cinema
I Am Love (Luca Guadagnino, 2009) 06/08 – 17/08.
The Hidden Fortress (Akira Kurosawa, 1958) 10/08 & 11/08
Les Herbes Folles (Alain Resnais, 2009) 27/08 – 31/08.
Mayfair Theatre
Long Pigs (Nathan Hynes & Chris Power, 2007) 06/08.
Two Evil Eyes (Dario Argento & George. A. Romero, 1990) 13/08.
Ip Man Double Bill
17/08.
Canadian Cult Review
18/08.
Survival of the Dead (George A. Romero, 2009) 20/08, 21/08, 25/08 & 26/08.
Dixie Dynamite (Lee Frost, 1976) 28/08.
Merry Christmas Mr. Lawrence (Nagisa Oshima, 1983) 31/08.
*****
Réalisateur Nouvelle-France
Whether it is in his period films (
Les Corps Célestes, L'âge de la Machinne
) or in his contemporary film (
La vraie nature de Bernadette, Le mort d'un bûcheron
), roadblocks pop up sporadically in the work of Gilles Carle. In the only province in North America to emerge from a French colony - all the way back to the exploration of the Saint Lawrence River by Jacques Cartier in 1534. The uncontrollable nature of Canada's untamed landscape for a long time has been aggravating its travelers, bringing them together, and making them late for wherever they are going. This visual is an apt metaphor to describe Gilles Carle mark in film history, as Gilles Carle is one of those directors that are undeservingly little known outside of Québec.
Piers Handling's has written "Carle is a central figure in the history of Québec cinema, having created a diverse, rich, complex body of work over 40 years, which despite its unevenness, contains several enduring classics." Which is true. Gilles Carle was born July 31st 1928 in Maniwaki, QC. Then he moved to Atibidi where he spent part of his childhood before moving to Montreal. He would set
Les corps célestes
in Atibidi during the 1940s, around the same time he would have been growing up there. He has won a plethora of Canadian film awards. His resume includes being a director, scriptwriter, and cinematographer for the NFB and then for the production companies Les Productions Carle-Lamy, Onyx Films, and Editions de l'Hexagone. He died of Parkinson's disease complications on November 28th 2009 in Granby, Québec.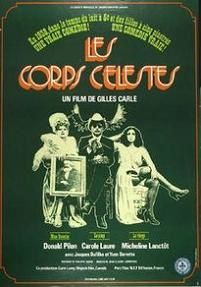 The fact that Gilles Carles is unrecognized might have to do that other then his film festival output in the 1970s and 1980s he has not received an international distribution or major DVD release outside of Quebec. Presently only five of his films and one of his TV-series,
Les plouffe
, are available on a unilingual French DVD's that does not have English subtitles. The
Coffret Collection; Hommage Gilles Carle
only came out in September 9th 2009. And it was not until his death late last year that the NFB put up a few of his short films on their online catalog. Some of his other films are available on Ilico On Demand television. And a few others are available on VHS. With only these few films available, most of them purely for a French-speaking Québécois audience, Gilles Carle is truly on that other side of that roadblock.
The
Coffret Collection; Hommage Gilles Carle
set has been one of the most rewarding DVD collections I have had the pleasure to discover in a while. On it there is
La vie heureuse de Léopold Z
(1965),
La vraie nature de Bernadette
(1972),
Les corps célestes
(1973),
La mort d'un bûcheron
(1973) and
La tete de Normande St-Onge
(1975). The titles themselves anticipate these folkloric tales that are integral to the French-Canada mythology. As well they hint towards his blend of comedic irony and warm complicity in the troubling of the typical Carles protagonist. The southwestern Québec townships of his childhood are not only relevant in his biography but they play a prominent role in the locales of his films. The stories provide the opportunity for these locals with their exotic
quétaine
(i.e. Québécois kitsch) and
joual
(i.e. the working-class dialect) to be crystallized on film. Throughout the collection there is the depiction of the change in the province of Québec from the rural and catholic towards a modern, urban and secular society.
The latter films in the series have an
Altmanesque
quality as Gilles Carle uses genre and farcical characters to paint a colorful and riveting portrait of his idea of the Québécois community. The characters stand out with their odd wardrobe and irregular situations but there is a familiar quality to them. This approach differs from his earlier films iconoclasm, like
Le viol d'une jeune fille douce
(1968), as he moves more towards realism that allows an emphasis on the characters and the situations instead of the aesthetics. However eccentric the characters are, the inevitable fact that they are together makes them care for one another. This sense of community is the emotional bases grounded in the films of Gilles Carle. There is also a consistent theme of the return to nature and wilderness but as he demonstrates in
La vraie nature de Bernadette
; it is not feasible, and what the 1930s setting of
Les corps célestes
suggests, it never was.
His first feature, a short that was expanded to sixty-eight minutes,
La vie heureuse de Leopold Z.
is a tour-de-force of a snowplower Leopold Z. Trembaly (Guy L'Ecuyer) making his rounds on December 24th doing everything but snowplowing. The film was ostensibly funded by the NFB to be a straightforward documentary on Montreal snowplowing, which Gilles Carles subverted to create his dreamlike and snowy tale. Some of Leopold's tasks include getting a fur coat for his wife, picking up his cousin and helping his supervisor move. The black-and-white cinematography dazzles and the bumbling protagonist seems to just float his way by on chance. Leopold takes out a loan to get his wife a fur coat. She kisses him on the cheek after he gives it to her. She then holds his hands before slowly moving it towards the coat. As much warmth is directed towards Leopold there is sly cynicism as Gilles Carle puts him through a lot of annoyances by the end of the day. This hand movement emphasizes the tension between the two.
La vraie nature de Bernadette
is a real "director" movie as the elliptical story seems to progress in a way to illustrate a Carlien tableaux of the rural Québécois landscape with striking colors and irregular situations.
The next three films can be seen as the Carole Laure trilogy that examines femininity during the sexual revolution of the 1960s. Carole Laure in
Les corps célestes
is a virgin courtesan, in
Le mort d'un bûcheron
she is in search of her lost father, and in
La tete de Normande St-Onge
she is desperately getting her mother out of a psychiatric ward.
Les corps céletes
is set in the pre-WWII days in Atibidi, as a pimp and his five prostitutes try to set up a brothel. One of the girls is frequently scared for the European Jews as she listens to radio broadcast of the demagogues, Adolf Hitler and Benito Mussolini. This is Gilles Carle take on Hannah Arendt's theory of the banality of evil and Jean-Luc Godard's one-time idea to make a film about a secretary at Auschwitz.
In
Le mort d'un bûcheron
, based on the 1913 Louis Hémon novel, Marie Chapdeleine (Carole Laure) moves to Montreal to find her estranged father. The only job she can get is that of a country-western singer at a nudie bar and then as a nude fashion model. Gilles Carles is making up here for the timidity of
Les corps céletes
, which only had a few seconds of bare breast. After finding out her mother died, by finding all the letters she sent to her returned by her door. She leaves with her boss, her fathers ex-lover and her generous neighbor to find her father dead at the lumberyard he worked at. All the while her exploitative boyfriend is trying to find her. They meet a serial killer in the woods.
In
La tete de Normande St-Onge
, Carole Laure moves from her job at a pharmacy, where everyone is really friendly with her, to kidnapping her mother from a psychiatric ward. Returning to her mother will prove to be detrimental to her mental health and social life, as she becomes a source of stress and a factor to regress from everyday life. Denys Arcand is great as the brother of Carole Laure's mother.
What makes Carole Laure so great is both her sensuality and vulnerability. She is both sexy and exciting. It does not hurt that she also acted in Dušan Makavejev's
Sweet Movie
(1974), John Houston's
Victory
(1981) and André Forcier's
L'eau chaude, l'eau frette
(1976). What makes her personality so interesting and Gilles Carle's liberal worldview so fascinating is how sexuality does not impede on the sense of community. The brothel in
Les corps célestes
is a family oriented place and in
Le mort d'un bûcheron
Carole Laure has sex a few feet away from her adult friends. And none of this seems at all sleazy.
There is the element of cinema of attractions to his films as he interlaces them with non-narrative vignettes. For example, a dash of a musical-sequence here and real-time intercourse-sequence there. There is also marginal narratives. These two aspects of his work anticipates the films of Robert Morin and Lorraine Dufour from the Coop Vidéo de Montréal. The family oriented strip club where Marie is country-western singer is similar to the strip club in Robert Morin's
My Life is for the Rest of my life
(1980),
He has earned his wings
(1981), and
Yes Sir! Madame...
(1984). The quirkiness of the Western club owner (Wilie Lamothe) seems like he could have been the star of Morin's
The mysterious Paul
(1983). The street scenes share the same local as Morin's
The thief lives in hell
(1984). And the western
Les corps célestes
falls into the genre of Québécois westerns like Morin's
Preliminary notes for a western
(1989).
The works of Gilles Carles and other Québécois filmmakers exist in a film history of their own. Bill Marshall has a book
Quebec National Cinema
(McGill-Queen's University Press; 2001) where he focuses on the French speaking "national majority" and the representation of its cultural identity. Québécois cinema is extremely fertile and is proud to boast such big names like Gilles Groulx, Jean Pierre Lefebvre, Michel Brault, Pierre Perrault, and Claude Jutra. What I find so interesting about the work of Gilles Carles is not exactly what he has to say about Québec but what he has to say about contemporary experiences, which resonates decades after their original creation. People should care for one another, sex is normal, relationships are tough, and there are a lot of obstacles we need to overcome. His work should be more widely accessible and should be more generously remembered.
*****
Elective Identities
The Canadian Film Institute hosted two Café eX screenings in July for a retrospective on the film tapestries of Gariné Torosisan. For me, Ms. Torossian's work consists of self-portraits and homage's that can be interpreted as self-portraits. I agree with Scott Birdwise when he writes that "
Come Around
partakes and what can be called a pneumatological imagination and process." Just as Pneumatology is the study of holy spirits, Torossian's work flickers between spiritual meditations and the means of self-representation. When she does not put herself in her films that position is passed onto one of her many friends and artists. All the while contemplating on her home country of Armenia and what it means and how she feels towards it from the position of a Diaspora Armenian.
To accompany the retrospective the CFI put out a book on the filmmaker
Elective Identities: The Moving Images of Gariné Torossian
, edited by Tom McSorley. The book is well worth checking out and can be purchased online through the institute. To order yourself a copy e-mail the CFI here (info@cfi-icf.ca).
Torossian Short Film Programme I: Ferocities of Arrival
, Early Works 1992-1999 consisted of
Visions
(1992),
Girl From Moush
(1993),
Drowning in Flames
(1994),
My Own Obsession
(1998),
Passion Crucified
(1998),
Pomegranate Tree
(1998),
Find Your Holy Self
(1998),
Red Brick
(1999), and
Sparklehorse
(1999).
Torossian Short Film Programme II: New Millennial Memory
, 21st Century Works 2000-2008 consisted of
Platform
(1998),
Dust
(2000),
Hokees
(2000),
Babies On The Sun
(2001),
Death To Everyone
(2001),
Shadowy Encounters
(2002),
Garden In Khorkhom
(2003),
Hypnotize/Mesmerize
(2005),
Elect The Dead
(2007), and
Come Around
(2008). It was a sublime experience. More people should have came out to enjoy them…
*****
Independent Canadian Filmmaking
It seems like this summer has been a major one for independent projects. In April the Canadian Film Institute projected Carlo Bruno's supernatural road-movie
In April
(2009). In July, Scott Birdwise presented his experimental film
Of Hands
(2010) at IFCO's third annual summer-time evening of experimental films
Dogme Films 2010
.
Of Hands
is a wonderfully photographed series of hands performing various tasks. Some scenes that stick out are of hands grabbing money, fingers wearing flamboyant jewelry, a lighter being lit, and the act of using a hammer. These observations are a microcosm for the most basic tasks within a post-colonial capitalist federation. This is Scott Birdwise's second feature, the first being
Smoke and Mirrors
(2009) that played at the
Dogme Films 2009
. Patrice James wonderfully hosted the event at the Rideau street underpass.
This month on August 3rd, Lesley Marsland and Matt Miwa's will project at Club Saw their short sci-fi comedy
Captain Sorelski and the women in search of Spacegold
(2010). Luke Ciesielski will be presenting the music video he made for local musician Adam Saikaley at the Ottawa International Film Festival, which will take place on August 21st and 22nd. Starring Lidija Marie and Candace Boivin's bicycle the Golden Hawk. The Toronto directors Nathan Hynes and Chris Power and actor Anthony McAlister will be at the Mayfair Theatre on August 6th to present their cannibal pseudo-documentary
Long Pigs
(2007). These independent features will all be well worth checking out. I hope to see all of you out there.
I also picked up Lee Demarbre's latest effort
Summer's Moon
(2009) on DVD. Fellow Ottawa film-critic Joel Crary, who is soon moving to Vancouver, has written an interesting piece on the residing memories from, and use of, locations in Lee's
Jesus Christ Vampire Hunter
(2001), which can be found
here
.
Finally, I am currently working on an instructional video for the French language department at the University of Ottawa. I am sure this series of seven podcasts will be keep me busy for this upcoming month. Expect less entries.-
David Davidson