The issue of Cahiers that comes to mind is 'Alain Resnais à jamais' (N.699). With a cover by the illustrator Blutch, who designed the poster for his last films, there's Resnais in his twilight years sitting in his office. He's smiling, dressed in a dark suit and his shirt, seat pillows and floor are a bright red. His iconic white set of hair stands out and so do his glasses that are sitting on a desk. There are papers and documents everywhere and a door that opens to another room full of documents. It brings to mind the deuil of his last couple of films Vous n'avez encore rien vu and Aimer, boire et chanter: that of a charming director already in his afterlife looking out to the world with joy and compassion sincerely wishing them the best.
The social context in France has only gotten darker since the Resnais issue from the attacks at Charlie Hebdo to the current rise of right-wing politicians. There's also been an uncomfortable rise of deaths of cultural icons these last few years as the important figures that modernized filmmaking have been dying and leaving in their wake a community of cultural orphans that need to recreate new cinematographic values and contemporary directors to identify with.
After the année noire 2015, in 2016 alone at Cahiers seven out of the eleven issues featured prominent Hommage features. In these two years alone, with more already appearing in the 2017 issues, some major figures that passed away and received these tributes include Manoel de Oliveira (N.711), Chantal Akerman (N.716), Jacques Rivette (N.720) and Abbas Kiarostami (N.725) along with Pierre Cottrelll (N.714), Wes Craven (N.714), Setsuko Hara (N.718), David Bowie (N.719), Andrzej Żuławski (N.721), Charles Bitsch (N.724), Pierre Étaix (N.728), Raoul Coutard (N.729) and Michèle Morgan (N.730). These eulogistic pieces pay tribute to these important figures of film history while the mise en page at Cahiers highlights the value of their importance, which range from being placed right at the front to closer to the back and from around one to five to at most thirty-some pages depending on the importance of the figure.
These features offer a different perspective to the regular Cahiers output as they are not as invested in the discourse of new releases. They testify to the importance of these figures to the history of cinema and to Cahiers. As Xavier Beauvois said about Serge Daney when he passed away, this form of memorial texts offer points de suspension, ellipsis towards the respective figure. Hopefully to maybe return in a Cinéma retrouvé dossier, which in the last couple of years included ones on Truffaut (N.704), Marguerite Duras (N.706), Paul Vecchiali (N.708), Orson Welles (N.712), John Cassavetes (N.720) and Akira Kurosawa (N.726).
Alongside these Hommage features and memorial essays there's also been many eulogy essays and obituaries, which mostly appear in the Le Journal. These include guest contributions by Bruno Dumont on David Dewaele (N.688), Thierry Jousse on Yoichi Umemoto (N.688), Nicole Brenez on René Vautier (708), Valérie Donzelli on Jean Gruault (N.713), Jean-Claude Carrière on Étaix and Vecchiali on Morgan. These pieces show the respective filmmakers in moments of transition. For example, Dumont piece that concludes, "Le cinema est bien 'Au-delà: David y est pour toujours vivant," would come to anticipate a shift away from the more austere films he made with
Dewaele

towards the burlesque of P'tit Quinquin and Ma Loute. While many other figures would just be placed in their regular obituary section Disparitions: Věra Chytilová, Michael Henry Wilson, Robin Williams, Antoine Duhamel, Leonard Nimoy, Richard Corliss, Christopher Lee, Raymond Chirat, Danièle Delorme, Maureen O'Hara, Melissa Mathison, David Douche, Vilmos Zsigmond, Haskell Wexler, Alan Rickman, Ettore Scola, Francois Dupeyron, Ken Adam, Ronit Elkabetz, Tony Conrad, Michael Cimino, Gene Wilder, Andzej Wajda, Herschell Gordon Lewis, Curtis Hanson and Michel Delahaye.
You can see this emphasis on a deuil and mourning, a remapping of the cinematographic landscape and aligning themselves with new directors through the films they chose to highlight. These new films from the last couple of years put up on screens images, actions and sentiments that synthesized feelings of melancholy, bereavement, tenderness, anger and optimism towards death and the problems of the world. Some of these titles include the Arabian Nights trilogy, Mad Max: Fury Road, Jauja, Horse Money, Love is Strange, The Smell of Us, Mia Madre, Je suis Femen, Cemetary of Splendor, Journey to the Shore, Toni Erdmann, Aquarius, Elle, No Home Movie and Kaili Blues. Cahiers films, in short.
But with the rise of deaths and a larger cultural cynicism there has been an unlikely turn at Cahiers: a return to Hollywood. In face of growing social divides and an atmosphere of fear, Cahiers has returned to a cinema of mass popular culture. The two most striking examples of this is its chief editors critiques of La La Land and Jackie (and maybe even the one for Arrival), which are all praised. These two films represent an embrace of a new popular cinema then what Cahiers is traditionally used to. American films regularly get positive critiques at Cahiers but they tend to be the films of its regularly championed auteurs instead of more mainstream Oscars titles. But with these two critiques two new directors are entering its pages – Damien Chazelle, while Pablo Larraín is returning after a trashed The Club – and with them a new way to think about Hollywood. It's that of a positive, optimistic Hollywood against a cinema of cynicism.
Stéphane Delorme in his critique of La La Land, Hollywoodland (N.729), has this to say about the film,
"Even though we see its flaws, we can still be charmed by the film as a whole. Why? Because Hollywood has been disappointing us recently and this film with its ambition, which isn't modest but for the better, is to renew the potential of dreams. If this film has been getting so much attention and Oscars buzz since Venice, is that it believes in the Hollywood dream. Damien Chazelle knows that Hollywood at its origins was called Hollywoodland and it's this world that he wants to film, and not the love story, which interests him a lot less. It would be a shame to dismiss the film for its vintage style as this problematic is already behind us. The idea now is to how renew films: How to make it so that its history isn't broken? How to believe in it still? This is Jeff Nichols' project with Midnight Special and Loving. These cinéastes feel the need to look back to the past to better construct the cinema of tomorrow. And they're right. Because what they give back is a certain type of emotion that we should never loose. Here the inaugural ballet returns the 'La' to the musical comedy that has been lost on our screens: a sentiment of enthusiasm. It's not a restoration, but a reappropriation of a common ground that has been abandoned, a territory of dreams that Hollywood itself was the one who was able to bring it into existence.

"In watching the film we are also stunned by how Hollywood has become Los Angeles, at what point the crystallization and the glamour of the Hollywood dream has transferred to the city itself. Damien Chazelle presents a pretty touristic trip of the city through its great films (A Star is Born, Rebel Without a Cause) and its principal theme song is entitled City of Lights. It's Mulholland Dr. that operated this transfer from a love of Hollywood to a love for L.A. (should we be calling the film L.A. L.A. Land?), while in the past the musical comedy (of the studios) never really explored the city to play with it. La La Land echoes well with another post-Lynchian angelos film: The Neon Demon. Nicolas Winding Refn, older, European, and exterior to Hollywood doesn't seek to renew a connection: he projects himself into the cinema of tomorrow by imposing fashion on cinema. It's an electroshock – and a failure too. While for Chazelle in a manner that's more nostalgic is a winner, imposes jazz onto the cinema, and his character of a purist who wants to open his own club certainly pertains to this cinéaste who wants to install himself there, as a young Tarantino… This exciting film opens the door and shows that Hollywood is there for its young filmmakers (Chazelle is 30) and can renew itself again in a decade that's one of the weakest of its history."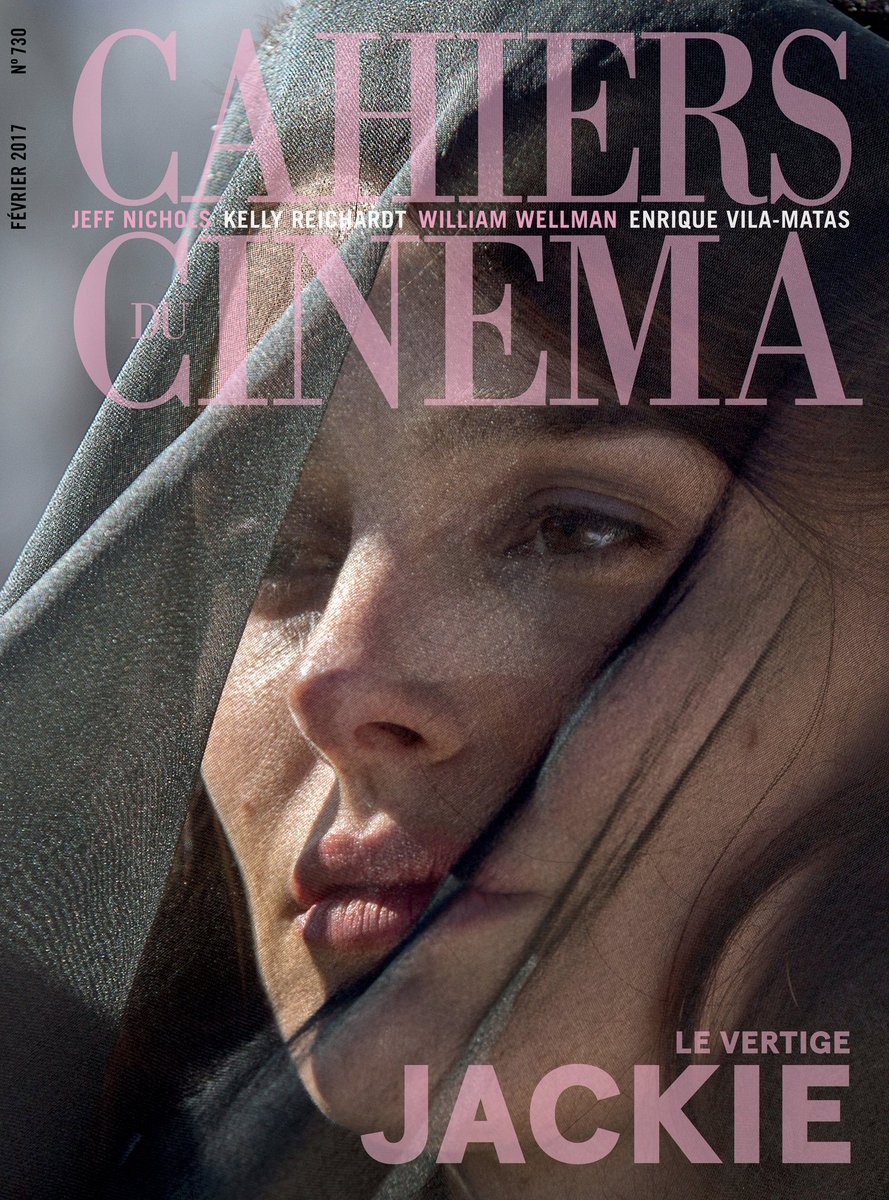 While Jean-Philippe Tessé in his critique of Jackie, Vertige et vanité (N.730), praises the film for its creation of a Hollywood myth.
"The composition of the film, and Jackie's oeuvre, resolves itself in a really accomplished scene, where she's wandering through the White House listening to the song Camelot… The film can then finish on the memory of a ball one night at the White House where Jackie waltzed in Jack's arms. It comes down to this, Jackie, a dance in the gown of a princess, a waltz that we'd never want to end, the Hollywood dream."
Regardless of your thoughts on these two films, Delorme makes La La Land sound a lot more interesting and Tessé makes Jackie sound just as good as one of Michel Curtiz's prestige biopics (a director someone even like Daney returned to in favor in his later years). But these changes come at what cost? Perhaps one of the biggest behind-the-scenes event and news from the Cahiers headquarters is L'affaire Nectoux. A newer critic that joined Cahiers in April 2013, Gaspard Nectoux offered some of the most compelling texts in the magazine over the last few years (see: more). One of his unique forces was his discussion of the réel, documentaries and hybrids of the two. He could have somewhat been seen as continuing the work of earlier Cahiers critics that focused on documentaries such as Serge Le Péron and Frédéric Sabouraud.
Some of Nectoux's merits included:
Having written some of the best pieces on
Lav Diaz, Alain Bergala and Jean-Luc Godard and on films like

I Used to Be Darker, A la folie, Summer, Frank and Le Chant d'une ile. Offering unique Cahiers arguments against consensus film festival favorites that were highly esteemed. Major take-downs of really obnoxious films were always fun to read. Even though websites like Rue 89 thinks he's the worst or Adrian Martin not caring for his review of Knight of Cups, Nectoux easily created many important polemics that Cahiers is actually famous for and they were always provoking and convincing. For example, when Nectoux critiques The Look of Silence for how "It's hard to delve into such a subject, when all that matters is the spectacle, spectacle, spectacle." One agrees due to his passion - sure! it is! - and one also wonders who he is arguing with?
In a Yap interview Nectoux is contextualized by Delorme amongst a new generation of 25 to 30 year old critics at Cahiers that includes Laura Tuillier, Florence Maillard, Louis Séguin and Hugues Perrot. And it was through Nectoux, and some of these younger critics, that I saw my own tastes and arguments reflected in Cahiers, more so than some of the older critics like Joachim Lepastier and Stéphane du Mesnildot.
The rumors behind l'affaire Nectoux is that he was fired due to a conflict with Delorme – I don't know anything more about it than that. Could it have to do with the high passions and tempers of the atmosphere at Cahiers? Any prejudice against writing that goes against the grain? Do young critics have a harder time being initiated into the tight fortress that is Cahiers?
There are other good young writers that have joined and left Cahiers before really imposing themselves that suggest
l'affaire Nectoux is just the tip of the iceberg of potential interior conflict. These critics have included Mathieu Macheret (who I really liked!), Sophia Collet, Matthieu Bareyre and Vincent Poli. From the recent December to February issues the only new young critics that have been able to contribute to the critique sections are Laura Tuillier and Louis Séguin. Of the other young new Cahiers critics that I've been suggested to look at (which many of them I'm not at all familiar with) - a list that includes Hugues Pierrot, Quentin Papapietro, Camille Bui, Paola Raiman, Chloé Huvet, Mirjana de Bie, Mathis Badin and Louis Dréano -
they're not regularly contributing to the more important critiques section and are usually tucked away near the back of the magazine in smaller, less important pieces. As well I don't believe they regularly publish

.
Nectoux brought a focus on the réel that brought Cahiers back down to earth. It suited the magazine really well as they were arguments that were at the forefront of a young cinephile culture. L'affaire Nectoux is one of the first signs that the offices of Cahiers are not as utopic as one imagined. I support the Cahiers combat against a culture of cynicism and instead to favor enchantment, winning and dreams. But it's not the only form of cinema and Nectoux's writing, choices and taste offered a vital perspective within a context that I guess wasn't receptive to it. It seems like a sense of reality is being loss in this transition. Here's hoping Nectoux bounces back and finds places to write and that Delorme at Cahiers becomes more accepting of new voices and that they can find a place for themselves at the magazine so that Cahiers can keep on growing and evolving with the times to remain the best. Rereading the same old arguments by an older generation, who are set in their ways and the filmmakers that they choose to write about, won't do for much longer.