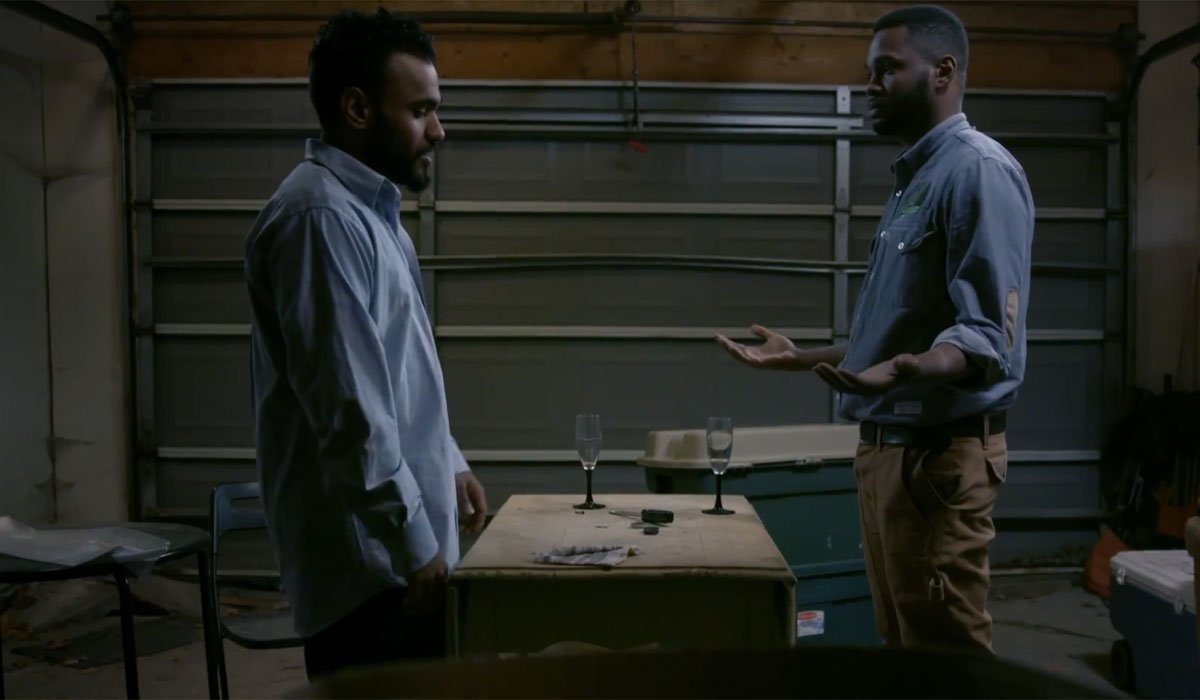 In Natty Zavitz' Edging (now available on iTunes) a young man is in a period of transition in his life. Having just bought a house, he's having a housewarming party with friends from throughout his life but where instead of hosting he's stubbornly focused on a home maintenance problem in his garage. Edging is a tale of springtime in Toronto. Where the rest of the city, and the world too, is moving forward with confidence, after a harsh winter, in what should be a period of renewal, its protagonist Jordan (Shomari Downer) gets stuck on one of the immediate problems at hand: The garage door is broken. Throughout the film, old friends come and go, recollecting about their youth and current anxieties, while new acquaintances come through, enjoying themselves and getting into trouble, but for Jordan, to make sense of the confusion and chaos around him, he has to remove himself from the social center, contemplate and discuss, so that he can eventually regain self-confidence and grow.
This narrative of anxiety and growth is a great metaphor for how I'm experiencing the Toronto film culture in the Spring of 2018. By all accounts it's thriving: Every night there's an exciting screening, on weekends a new festival and publications are putting forward relevant polemics. Some positive recent examples: There's the publication of the new
André Bazin's Selected Writing, the film magazines Cahiers, Positif and Cinema Scope are on point, CBC's new shows Workin' Moms and Caught exceeded expectations, and there's the upcoming What The Film Festival and Canadian Film Fest. Regardless of the problems in the world, the consensus seems to be that Toronto film folks are forming communities, pursuing goals and achieving results. All really great things.
But sometimes it's important to step back a little and figure out what you need to do before you can go out to join others.