"C'était tout simple: moi, ce que je veux faire, maman, c'est des films à propos de toi, pour toi. Tu es aussi importante qu'une vedette américaine. Je veux le faire dans ton langage, avec le français de chez nous."
Somewhere in André Habib's new book on Québécois cinephilia, La Main Gauche de Jean-Pierre Léaud, appears this anecdote where one of the interviewees talks about the love he has for his mother, how he would do anything for her, and how it's also connected to his love of cinema. It's a touching anecdote, modestly included, and speaks to the heart and desire to love running through this project, and the best of Canadian cinephilia. (It also reminded me of Jean-Marc Vallée's tender portrait of mothers such as the one in C.R.A.Z.Y.).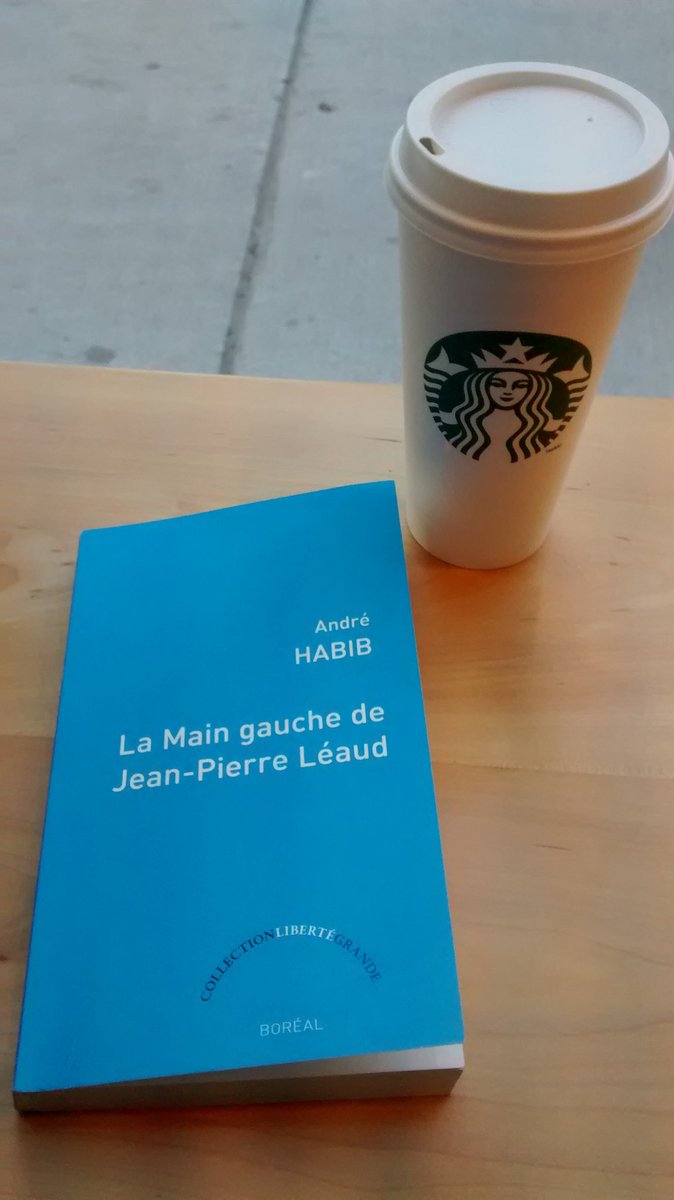 André Habib is a Montreal film professor who is best known for his website Hors Champs, which tends to privilege film theory and the avant-garde films – he also has a great essay in the Daïchi Saïto book. With this in mind it comes as a surprise to see how accessible and generous La Main Gauche de Jean-Pierre Léaud really is. Cinephilia will always be a minority sub-culture but that doesn't have to imply that the objects of discussion cannot be popular. And through Habib's study of cinephilia (that strange addiction to cinema screens) and its particular Québécois context, with interviews enriching its lengthy history, he gives a voice to this passion that has been burning bright for over sixty years.
The title of the book comes from Habib's enduring fascination with the key actor of the nouvelle vague française,
Jean-Pierre Léaud,

and how his left hand, through his many performances, reveals something characteristic about himself and his roles – his liveliness, anxieties and anger. Leaud's left hand is free, improvisational, reflects his unconscious, and reveals a lot about his acting method. The decisive film is Godard's Masculin, Féminin but there's also Eustache's La maman et la putain and Tsai's What Time Is It There? There's two decisive elements that are being conceptualized throughout his analysis: the attention to very specific details which contributes to the cinephile's repertoire of images and references, and the importance memory plays in the collective consciousness of this community. Another example is fly that briefly ends up on a projecting print of Snow's La Région centrale.
Habib is building on the intellectual cinephilia writing of Jean-Louis Schefer (L'Homme ordinaire du cinéma) and Serge Daney (L'exercise a été profitable, Monsieur), and Raymond Bellour (La querelle des dispositifs) and Antoine de Baecque (La Cinéphilie), but from the perspective of Canada, which in itself is a lot more quiet and modest than the battles around films that's been going on in Paris. But this is exactly its strengths. As how to define the cultural memory of a Québécois cinephilia in the great white north?
To answer this question, Habib interviews many senior cinephiles (and some younger ones) that paved the way back in the forties and fifties which greatly contributed to where we are now. There are analysis of old ciné-clubs and their programming, film magazines and newspapers, movie theaters and audiences, rituals and lifestyles, censorship and bylaws. Some interesting information: Up to 1960 movie theaters were banned from teenagers under the age of sixteen, so then movie posters, lobby cards and noises from the cinemas allowed these children to dream and imagine what they were missing out on. Preminger promoted his search for Joan of Arc in an old issue of Séquences. The church had a hand in the ciné-clubs and they privileged French and world cinema over American films. Resnais' Nuit et Brouillard was an important film for many and so was the nouvelle vague. Censorship was real and films would be cut or not shown (this is coming from the only province to edit Hitchcock's I Confess). The Cinéma System and
Ciné-Samedi
played some remarkable films. There were even summer camps for ciné-clubs. In the seventies and eighties Montreal had some great b-cinemas, and the Cinémathèque québécoise would also play an important role there (to hear how its doing now, Marcel Jean's new interview on Derrière L'image offers many illuminating remarks).
La Main Gauche de Jean-Pierre Léaud
gives a fascinating voice to many of these narratives. This makes it a nice reverse-shot to the more information-based book by Yves Lever and Pierre Pageau, Chronologie du Cinéma au Québec. The book itself, beautifully put together by Collection Liberté Grande, then becomes a palimpsest of all of these nostalgic memories, without ever falling into a bitterness which privileges the past (though Habib still prefers celluloid to digital). This makes it quite apt that it begins with a discussion of other cinematic palimpsest art-works like Jim Campbell's Illuminated Averages, Hiroshi Sugimoto's movie theater photographs, and Piere Bismuth's motion drawing on film stills.
How does a cinephilia emerge when there aren't any models? Who to look up to when there aren't any equivalents like Daney or Peter Wollen? After two world wars, this forties québécois cinephilia period has its roots in both trauma (of the war) and pleasure (of finding a moment of escape) – two strong emotions that form a narrative to the book. La Main Gauche de Jean-Pierre Léaud traces this history of spectatorship and programming and the creation of these theatrical avenues.
Though Brault, Lefebvre, Arcand and Jutra are brought up surprisingly not so much the National Film Board. P

erhaps more attention to the creators of some seminal films could have expanded its range. Someone like Paul Almond (Isabel) has fascinating stories of driving to New York to watch A Clockwork Orange and Ingmar Bergman films. Anything on Gilles Carle would have been fascinating too. But regardless, a fascinating study.
To continue this cultural memory of a Québécois cinephilia, another great example comes in Robert Schwartzwald's new contribution to the Queer Film Classic series on Vallée's C.R.A.Z.Y. It's an impressively organized study, which contextualizes the film within Vallée's career, its universal relatability, which is enriched by an interview with its screenplay writer François Boulay. Schwartzwald's analysis is particularly attuned to the film's visual and musical strategies, its representation of the rural and urban dichotomy so important in Qu
é

bec, the zeitgeist of the Quiet Revolution, the emergence of queerness in the society of the times, and contextualizes it along other queer films. But there's also a nice personal post-script on why he particularly identifies with it and how it relates to his life. This just shows the strong affect C.R.A.Z.Y. has had on people.
These two books enrich the cultural memory surrounding a Canadian cinephilia. To best move forward, the memories of the past still offer us a great model.