Ottawan's and the Enlightenment
By David Davidson
The Canadian Journal of Film Studies
, Editors-in-Chief: Charles Acland and Catherine Russell, Film Studies Association of Canada Press, $15.00.
The Canadian Journal of Film Studies
is an ongoing series compiled of scholarly articles on films, reviews of film-related books and miscellaneous writing relating to film studies. Thought I do believe the journal should have a proposed mandate, whether in the journal or on its website, the efforts are a great contribution to a nation-bound endorsement for academic writing about film and film studies. It highlights the importance of peer review work and being accountable to neighboring university film-studies graduate and professors. The Film Studies Association of Canada, who publishes the Canadian Journal of Film Studies, is having its 12th annual graduate colloquium with presentations on topics in Canadian film and media and comparative analyses of film and other media on February 11 – 13 2010 at Carleton University.
I am currently finishing my undergrad with a minor in film studies at the University of Ottawa. The professors were all relatively competent and the classes were usually graded on two papers ranging from 5 to 15 pages and attendance. I felt slight friction in a few classes with classmates and professor as it is hard to reference films and directors that no one else has ever of. I was taught by the following professors: Gary Evans and Boulou Ebanda de B'béri- both from the Department of Communications, Douglas Clayton and Franco Ricci- both from the Department of Modern Languages and Literature, and Leslie Sheldon from the Department of English.
Gary Evans wrote a few Canadian film-related books and in his Canadian documentary class the mandatory readings included his textbooks
In the National Interest: A Chronicle of the National Film Board of Canada from 1949 to 1989
(1991) and
John Grierson: Trailblazer of Documentary Film
(2005). The Russian Cinema professor Douglas Clayton communicated well his knowledge and enthusiasm for Russian and Soviet culture and his preferred directors included Andrei Tarkovsky, Georgi Daneliya, and Alexander Sokurov. A great classroom experience was after the screening of Sokurov's
The Russian Ark
(2002) professor Clayton turned the lights back on and was in tears as he was so taken aback by the films beauty. The Italian Cinema professor Franco Ricci screened many Vittorio de Sica and Bernardo Bertolucci films. I really appreciated Mr. Ricci as he would later hire me as a marker for his Italian Culture and Cinema class. The professor for Literature and Film Leslie Sheldon made aware a preference for the movies of the Coen brothers and Steven Spielberg and he also seemed adept in film history.
In Boulou Ebanda de B'béri Canadian Cinema and African and Australian Cinema class there was a general disregard towards film history. No films were watched in their entirety and the screened movie-clips were marginal and scarce. His selection of films were questionable as they included really commercial fare from the last decade with little interest in diverging in works from the past or from more experimental directors. However he did introduce me to Zacharias Kunuk which I am very grateful for. Film narrative and the mediums malleable sight and sound elements were not discussed but instead there was an obnoxious perseverance for a meta-discourse on certain communication concepts (e.g., representation, ideologies) and at times concepts were unclear.
These are a few things that are awry about the non-regulated film studies program at the University of Ottawa which lacks a unifying structure. These shortfalls could be avoided if there was a stronger faculty emphasis to impose the professors to be engaged in the greater Canadian Film Studies academic community and abide by a structured format to maximize educating about film.
*****
Charles Tepperman's
"Stolen From the Realm of the Night:" Modernity, Visual Culture and the Reception of Cinema in Ottawa
in
The Canadian Journal of Film Studies
Volume 18 No. 2 Fall 2009 issue is a pleasurable read that has much to offer on the years in which cinema was being introduced to Canadians as well as a social-cultural-developmental-political history of the nation's capital city interlaced with nostalgic remnants. Tepperman argues that Ottawa between 1894 and 1896, even then a major Canadian city, specific conditions including its particular configurations of commercial entertainment, electrification, and urban expansion prepared its citizens for the reception of motion pictures.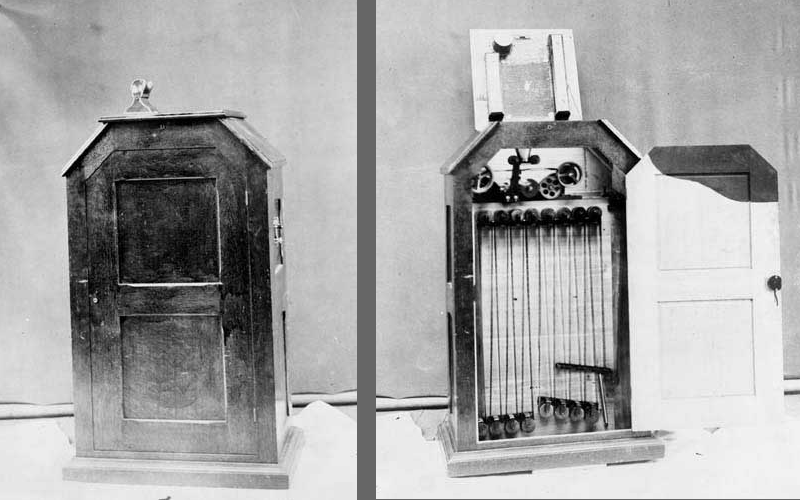 The first contact with photoplays was Edison's Kinetoscope, the solitary viewing motion picture peepshow, premiered in Ottawa November 3rd 1894 and returned November 2nd 1895. Charles Tepperman argues that this was part of the process of local modernization of urban entertainment. The exhibitors were George and Andrew Holland. The Holland brothers had a close business relationship with Thomas Edison and it was them who opened the first Kinetoscope parlor in New York City April 14 1984. The subject matter of the films, usually Edison company shorts, was secondary to the impressive technical nature of the machine itself.
Throughout Ottawa the proto-cinematic qualities of illumination was beginning to take place. At the Ottawa Winter Carnival electrification enabled the lighting of the Chaudiere Falls and electrical burst of spectacular effects and elaborate mass choreography at the "Storming of the Ice Castle" on Nepean point anticipated future illuminations.
The six week exhibition of the Vitascope in Ottawa July 1896 was the first Canadian exhibition organized again by the Holland brothers. During this period Wilfred Laurier was elected prime minister. The New West End Park outside of the city, with the Vitascope, was a new center of attraction. The Ottawa Electric Railway Company and the Ottawa Land Associations owned the land in Hintonburg and Mechanicsville, where the land was cheaper and the taxes lower, capitalized on the expansion and used the streetcars to advertise their property.
Interestingly this blog is a continuation of the film going tradition described in the essay. While some of the old methods of exchanging information are still around such as the Ottawa Citizen, some are not like the Ottawa Journal and the Ottawa Free Press. The locations are now a little different; there is no longer the Grand Opera House, Wonderland Musée Theatre, and the New Perley Block (55 spark street), but there is the Bytowne Cinema, Mayfair Theatre and the Library and Achieves Canada. Instead of peeping at Thomas Edison we go watch movies by Atom Egoyan, Guy Maddin etc. In the essay there are highlights of Ottawa geography that sparks some nostalgic warmth as it acknowledges the importance of certain places as part of the experience of living in this city. Some of these include the Ottawa River landscape, the Experimental Farm, the Post Office, Sparks Street and Bank Street, Ottawa Canal town, and Lansdowne Park. While now some of these landmarks have been razed and new ones have been built and there has been a shift in media from physical to digital, It is through an understanding of Ottawa's history that enlightens one towards a more cultural ingrained film-going tradition and makes engaging with local repertories a lot more rewarding.