Always an important cinematographic event, the new Godard, and Adieu au langage is just that, a glorious 'period' film, like the end of a sentence (or at least it feels that way) with its farewell title and in experimental 3D pyrotechnics, it feels like a gesture to retreat towards the next stage of life. With Godard's dog Roxy (which has his wife's last name, Miéville) digging and searching throughout a beautiful nature landscape. And with his cinematographer Fabrice Aragno they fulfill André Bazin's Myth of Total Cinema by using these new filming cameras to see and record these pioneering new images of place and light for our times.
But is it necessarily his best film? Or how do you talk about Adieu au langage without falling in general hero-worship?
In terms of a poetic documentary on Godard's surrounding Switzerland, I thought Lettre à Freddy Buache (1982) was a prettier, more concise documentary on the Lausanne, Romandy of the time. (Buache, who by the way, is fascinating in his recent Hors-champs interview on the subject of Godard; I, II). Chris Marker, in his late age, when he makes his video-essay The Case of the Grinning Cat (2004) it feels more politically committed than what Godard is doing here. Film Socialisme also felt more social as it's a contemporary look at a Europe in a state of economic and political crisis. And in Adieu when Godard makes the connection between the election of Hitler and the creation of television it's the same argument that he's been making since his Histoire(s) (1998)! And even thought I really want to read Zoé Bruneau's experiences working on the film (En Attendant Godard), and I understand the art history references, it still doesn't sit right with me that he should have her be naked for most of her scenes. Even Bergman didn't do that in his last film Saraband. And I don't think he should necessarily be the center of gravity for French cinema, as he is for many, as for example, René Vautier (Afrique 50) has been too little known for too long and deserves more attention (c.f. Nicole Brenez on Vautier). And there are younger directors that are doing similar things which I think deserve more attention like Isiah Medina and his new film 88:88. And Godard speaks of making short videos on his cellphone – and how SMS's stand for 'Save My Soul' – but I don't know if in the era of YouTube how impressive it is incorporating these into his film. Do I really need to see an eight-second moving close-up of his bed? And I'll be curious to see how Adieu compares with Michel Gondry documentary on Noam Chomsky (Is the Man Who Is Tall Happy?), another creative documentary on linguistics. But I guess where Godard fails in these other departments he succeeds elsewhere. Since Adieu au language still stands on its own as stunning object that shines by its imperfection. It's the digital 3D equivalent of a painter's draft of a self-portrait. Adieu.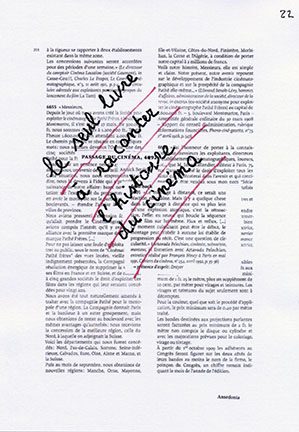 And Godard himself was more generous too with his interviews for Adieu. Where in the Eighties he was severe and sardonic with the press and media, now, without loosing any of his social criticism (though perhaps less people actually listen to him in his late age) he has a peaceful, generous and philosophical approach to his interviews. He complements certain critics that have been long-time supporters, he received Laure Adler for several interviews at his studio, and even in the press release for Adieu he shines a light on an impressive, though little-known, self-published book Passage du cinéma, 4992, which he describes as, "The only book to tell the history of cinema."
Hopefully to hear, and discuss, more about late Godard Torontonians can come out to what sounds like a great roundtable discussion with leading Godard scholars Nicole Brenez, Daniel Morgan, Murray Pomerance and Jonathan Rosenbaum, who will probe such issues as the critical response to late Godard, the aesthetic and political development of his post-Weekend work, and the controversial themes that have preoccupied him over the last decades.
Friday, October 3rd at 12:00pm at the TIFF Bell Lightbox.