How can a film magazine be challenging? Who is their readership and what do they want to hear? How to fulfill a demand without getting trapped in a schema? What movies should be emphasized and how to write about them? Should there be a fidelity to what has already been published? What should their relation to film history be? And how should print media correspond with digital websites?
These are some pertinent questions for any film magazine and to try to answer some of them I'm going to address how they are treated at Cahiers du Cinéma.
Some thoughts about Cahiers from their own past writers include: Antoine de Baecque in his books about the history of Cahiers proposes that the magazine has always been a place for writers to praise the filmmakers that they admire. Jean Douchet emphasized in the book French New Wave that Cahiers "is a magazine by, about, and for the youth," and that "It's strange today to hear these attacks that it is obscure, intellectual, and boring."
In the great Spielberg - Face A Face issue (N.675), Delorme in the editorial, Le témoin, discusses the responses that they've received due to their inclusion of Spielberg's War of Worlds in their Top Ten of the 00's, "a lot of readers, especially Anglo-Saxons, let us know about their incomprehension." And he goes on about Spielberg,
"It's strange that a filmmaker like Spielberg still divides. His oeuvre, 40 years and 29 feature films, which is as coherent as it is varied, has a rare consistency. If we can complain about some of his bad films, we can't discredit that Close Encounters of the Third Kind, E.T., A.I., Minority Report, and War of the Worlds trace one of the best trajectories of that period in American cinema."
It is this difference in reception, between English reviewers and the Cahiers critics, that Jim Hillier, in his great anthology collections on Cahiers, is able to succinctly highlight,
"In other words, the closer Cahiers moved to what had been traditionally conceived the 'conveyor belt' end of the cinema spectrum, the more their 'serious' discussion of film-makers seemed outrageously inappropriate. As it happens (even if Cahiers did not see it in quite these terms at the time), the more they outraged in this way, the more acutely they raised crucial questions, however unsystematically, about the status and criticism appropriate to film as an art form in which unsystematic divisions were constantly being made between art and commerce."
What are the reasons people have expressed a skepticism and aversion towards Cahiers? Emilie Bickerton in A Short History of Cahiers du Cinéma writes that Cahiers has become a "consumer guide," "another banal mouthpiece for the spectacle" and finally that "whatever the precise date of its demise, Cahiers now is dead." This is outrageously wrong. But Bickerton's thesis isn't an isolated example. Jonathan Rosenbaum remarks about "the overall dumbing down" of Cahiers in the otherwise excellent Movie Wars (2002). And to discredit them has become a general short-hand for uninformed critics to assert an air of superiority.
All of the above criticisms are
simply false.
The only problem that I can think of when the magazine changed its format in the early 00's is that the page layout was clunky and perhaps lacked an editorialized mise en page, which has long been resolved.
The innocent answer to why people are unfamiliar with Cahiers, which is the obvious explanation, is that most North Americans who are even interested in film (those who have gone through a university film studies program) usually identify the magazine with the New Wave directors and aren't even aware that the magazine is still active. There are others who are interested in it but the obvious thing stopping them from reading it is the language barrier.
To offer a few hypotheses on why some people discredit the magazine: since Cahiers is a magazine that routinely re-invents itself, I think, that the current group of writers might have received some unfair animosity from the old-guard critics whose alliance are with its past members.
This perspective on the magazine does not reflect the many editorial changes that have taken place as the magazine's chief editor has changed, and would not be a fair assessment to describe the Delorme years. St
é
phane Delorme, who became the chief-editor in late 2009 (cf. Programmer, the last paragraph of my Coppola review), has been publishing some of the most interesting film writing today: a strong emphasis on unique cover stories, insightful reviews of the major films, polemics, cinephile-oriented journalism (cf. Cahiers and Gray), an engagement with film history, and a fidelity to the spirit of the magazine. The magazine in recent years has been of such high quality that some long-time Positif subscribers have admitted to have changed their subscription to Cahiers.
In Delorme's response to the Bickerton book, Une sale histoire, he speaks about the glory days of the post-'81 Cahiers years, "It's the moment of perfect equilibrium between theoretical texts, a firm defense of auteur films, and the return of American cinema. Where we can read essential texts by Chion, Bergala, Schefer, Tesson, Bonitzer, Assayas and Narboni. And on the covers we can find L'Enfant secret by Garrel and Les Enfants by Duras." And that another problem with the book is that it is too vague and full of generalizations, "The different theoretical and aesthetic approaches that are quite obvious between the years Jousse, de Baecque, Tesson, Lalanne, Frodon were editors aren't even perceived."
Another challenge the magazines reputation has faced in North America has been the overexposure of their defense of certain disreputable directors without them being able to elaborate their reasoning for championing them.
So far, to counter this, here at Toronto Film Review, I've provided translations of their recent assessments of the filmmakers Brian de Palma and Paul Verhoeven. To add to this list here is a new survey of the complete films of M. Night Shyamalan.
Unbreakable
(Cahiers, Jan '01, N.553), w/ Cahier Critique by Emmanuel Burdeau, Mon père ce héros.
The first review of a Shyamalan film in Cahiers was for Sixth Sense, which was rated negatively and relagated to the Critiques section. The review by Olivier Joyard talks about the platitudes of Bruce Willis, the film's dullness, its inferiority to the work of his contemporaries (Resnais and Egoyan are brought up), and its lack of intellectual merit. This is not a good start for creating a rapport with Shyamalan.
Emmanuel Burdeau, on the other hand, in his review of Unbreakable praises the director. "It is of no use anymore to asks what is cinema (to answer this question, simply: the domain of ghosts) but instead one should ask what can cinema achieve: what is the destiny that it can reserve to these already-deads, to these still-living people whose troubles are on the screen." And that, "In Unbreakable we find the same religiosity that we found in Sixth Sense. But here it slowly takes on one of the greatest subjects: progressive disbelief by someone whom the belief comes from."
Burdeau revises the opinions of Joyard's original review: "Sixth Sense, already, is a response against those that say cinema is dead. Unbreakable takes up this argument and refines it. First proposition: cinema isn't dead, because death is spreading everywhere. Second proposition: it isn't dead because this death (life, actually) doesn't even recognize itself; ghosts in fact still think they're alive (Sixth Sense) and the heroes are already dead (Unbreakable)." And because of the film's emphasis on the body, Burdeau compares Unbreakable to New Rose Hotel, Matrix and Mission to Mars.
With this review Burdeau confirmed that Shyamalan is a filmmaker to look out for and to defend at Cahiers, and which he would write about on a couple more occasions at the magazine.
Signs
(Cahiers, Oct. '02, N.572), w/ Cahier Critique by Charles Tesson, Sainte trinité.
Like Bong Joon-Ho's The Host and J.J. Abrams' Super 8, Shyamalan's Signs is a film in the shadow of Spielberg's E.T.. But where with E.T. the alien came to befriend (at the time, Spielberg expressed that aliens would not harm), in these films and in Spielberg's own War of the Worlds aliens are not only unfriendly but dangerous and violent. Where in E.T. the alien can be viewed as a cinematic metaphor for growing up and dealing with the sadness of divorced parents, the presence of vicious aliens in the recent films reflects a darker post-9/11 mood.
Signs
is about Graham Hess (Mel Gibson), a former p
riest who lives on a farm with his younger brother and two children. He is widowed, his wife having died in a tragic car crash. There is something supernatural in the air at his Pennsylvania farm; crop circles appearing late at night in the surrounding cornfields.
Charles Tesson, the reviewer of Signs, is one of the rare older generation Cahiers writers who still contributes today (eg. Naissances du Cinéma Indien, N.686) and who is also now the Artistic Director of the Semaine de la Critique at Cannes. There is also a great article by Burdeau about Signs in the Shyamalan book, Critical Approaches to the Films of M. Night Shyamalan: Spoiler Warnings.
Tesson begins his review, "The latest film of M. Night Shyamalan, unlike Unbreakable, is a movie that is on dangerous grounds, which is about to rupture." Tesson describes the filmmaker, "a cineaste rather gullible, skilllful, and blessed in regards to showing our proposed universe. Shyamalan is the opposite of a naïf in regards to his usage of special effects and especially that of his mise en scéne. He believes in cinema's ability to create tricks and their capacity to fabricate frights." Tesson continues, "This great alliance between a real talent of mise en scene and a theoretical understanding of American cinema's fictional ability contributes to what makes Shyamalan's cinema so unique."
Tesson speaks about the use of the television in Signs,
"The television is the primary character in Signs: at the beginning of the film, the little girl complains that the TV is not working, without understanding that all of the channels are playing the same image – September 11th. In front of these flaming towers, any child could have had the same reaction. […] This presence reveals the starting point of Shyamalan's project: after 9/11, the new cinematic fictions are to be created in the reflections of a turned-off television screen; this is when cinema will be able to regain all of its rights."
Tesson compares Shyamalan to Spielberg, "Shyamalan's universe, like that of Spielberg's (in this respect, his twin brother), relies on the denial of sexuality. We have to believe in these characters that no real libido." Tesson concludes,
"So what are the signs are sign of? A first step towards sexuality. A new trinity in the name of the father, the son and the extraterrestrial where the family can recompose itself and the paternal function can regenerate. And where are the women in all of this? Between the daughter who places her glasses of water all over the place and the mother who dies and looses all of her blood, the liquid hypotheses is quickly consumed."
The Village
(Cahiers, Sept. '04, N.593) w/ Cahiers Critique by Jean-Pierre Rehm, Le village est-il damné?, and a Contrechamp by Emmanuel Burdeau, Stupeur et enchatement.
There was a documentary that came out to accompany The Village, which is The Buried Secret of M. Night Shyamalan. It is strange because one are never quite sure if it is meant to be taken at face value (the press material makes it especially confusing), but either way, it highlight many themes that are apparent throughout Shyamalan's films, and brings up relevant biographical points.
The Village
of the film's title is a nineteenth century community whose inhabitants are horrified by a murderous monster living in the surrounding forest. There is something about the production design and its isolated community that is haunted by mysterious spirits, which is similar to
Lars von Trier's Antichrist and Carlos Reygadas' Silent Light and Post Tenebras Lux.
Jean-Pierre Rehm, like Tesson, is another old Cahieriste who now programs at the FIDMarseille film festival. In his close reading of the film, which references the Greek classics, he sees the film as a work of social criticism.
"To be a professor of American history, what filmmaker's ambition today is to do that?" Rehm asks at the start of his review, "The one, as it seems, who claims it the least." The Village with its love story, production design, costumes, casting, and cinematography is, "evidently and slyly, grand and understated, Shyamalan's latest fairy tale."
On the use of horror in the film Rehm writes,"The Village is economic when it comes to creating terror: no special effects, little is hidden, nor does the narrative stall, in it the Grand Guignol remains in the background, and the story reveals itself in scenes of expeditious explanations." Rehm continues,
"The origin of the fear, which is revealed to the audience simultaneously as it is revealed to the blind heroine, is fear itself. It is the red berries that are part of this conspiracy theory, that bring about this danger which is a creation of the Ancients, these Amish actors, as a way to preserve their project: to isolate themselves in a clearing of innocence and to isolate themselves from the world and its corrupt cities."
The Village's
setting is a fictionalized spatial and temporal one that becomes a "lesson in dramaturgy." For Rehm, "Brecht, has finally landed in the American culture industry, and teaches about the necessary critical distance." And he continues,
"Here it is, placed at the heart of suspense, that he tells us: the tale the most sober and poignant is only an illusion destined to create a change. To substitute a real violence for a fabricated changes everything. Because to substitute an uncontrollable violence for another one, real and controllable, that is why the Ancients decided to escape. The real world that is discovered at the security booth when the chief is reading the newspaper is even more violent."
"The fiction is an enclosure, not because it is real but because it is presented as the actuality. But do we know this? Since Aristotle this has been said. Does it scare people? Not necessarily. If it is like the difference between The Manuscript Found in Saragossa or Brigadoon or other baroque novels, the fiction is less menaced by the commonplace violence of the surrounding world, but instead comes from the suffocation of its utopia, the falsity of its magic, and the disintegration of faith itself."
Rehm brings up the Italian philosopher Giorgio Agamben to speak about the politics of the film,
"This is why even though the village is supposed to be a model of the real, as the chief security speaks about, there are no planes allowed to fly over the forest, this is nothing but a zone of non-rights. This territory has become an invisible backstage and with its surveillance it becomes a sort-of Guantanamo in the rural country. It is no longer against the exceptional, but a territory constantly in a state of exception. A state that ceases, like is written by Agamben, "d'être ramené à une situation extérieure et provisoire de danger réel et tend à se confondre avec la norme même.""
Rehm brings up contemporary events in relation to his reading of the film,
"The Village is a bittersweet account of an American seized within its origins mythology that is completely artificial and that is trying to understand the reasons why the state incarcerates. Where someone like Michael Moore heavily plays the Zorro character, Shyamalan prefers the plasticity of a strong fable: set in 1897 (which can be seen on the tombstone in the opening sequence) to today, from the stories to its origins, from the western to the pitiful scenario created to invade Iraq for weapons of mass destruction. These arms, each spectator must understand are their own and it is the world outside of the village."
In Rehm's conclusion he tries to tie everything together (admittedly, in a complex way, and I'm not sure if I'm doing his rhetoric justice),
"What kind of boss is then the filmmaker? Here like before, Shyamalan needs to mystify the options to then pick an intermediate location. His chief security character, a modest role but an important one, puts a sense of scale to what Jacob is doing. The Walker professor teaches history and all of the children listen to him. But there is a troubling wind that is abounded. The wind continues to agitate the trees of this Pennsylvania forest where the leaves on their branches can no longer grow. This troubling atmosphere blows with it a renewed complexity, and where the particulars are in front of us to see."
Burdeau in Stupeur et enchantement begins, "A major filmmaker: M. Night Shyamalan, revealed himself to be when he released The Sixth Sense. Since then this evidence is evidently confirmed in Unbreakable, Signs and now The Village."
"In four films, Shyamalan has reignited the beauty, which has for a long time has been neglected, of decoupage," writes Burdeau, "But if this was it, grammar and story-board, Night would only be a master of an art, which isn't that important, that of a competent craftsman. But, to our surprise and happiness, there are two elements that are important to the logic of his "pure cinema."" These two qualities are, "wild comedy and dry irony but which is understated and where the summit of this is the jeweler scene in Sixth Sense," and, "an extreme slowness. In Shy's films there is a petrified burlesque, a terrible weight that belongs to his creatures and somnambulist, more so than his ghost […] These are films that are dressed in heavy cotton, and it is a cinema which is slowed down. The suspense is decomposed with each new image."
What is the function of the comic and the slowness? "It is to highlight but to wrong, accentuate and to delay revealing its complex mystery. We have learnt that with Shy, especially when his films are starting to reveal themselves, and then when they start to shine, that he organizes each shot like a clue within a larger enigma where only the outcome will reveal its true purpose." Burdeau continues, "Let's call what he does stupor, a word that brings together his comic tendencies and the slow-burn. Double stupor: a camera that lingers upon a devastated landscape, the people that are looking out at it: eyes wide open, standing still, in awe."
Burdeau's great conclusion,
"With Shy, this stupor is everywhere, and it is with it that his cinema carries the promise of being about more than just mise en scene. It renders the viewer weak as a way to save them; we can feel it as we watch the screen. And just like the fake costume-drama of The Village this common interest, which asphyxiate and seduces, which brings us closer and farther apart, talks about something extremely precise: this weird gathering, talks about the intimate trouble that connects us today to images."
Lady in the Water
(Cahiers, Sept. '06, N.615) w/ Événement Cahiers Critique by Jean-Philippe Tessé, Rire et ravissement.
Lady in the Water
is perhaps the most clear and unpolluted Shyamalanesque vision and the most representative of his imagination and burlesque. Inspired by a childhood fairy tale he invented for his daughter (and which he would also produce into a book) it is perhaps his funnest and most entertaining film. And amongst the impressive special features on his DVDs (which includes his early teenager short films, and lengthy making-of docs) the behind the scenes of Lady in the Water is maybe his best (with Sixth Sense, The Village and The Happening following).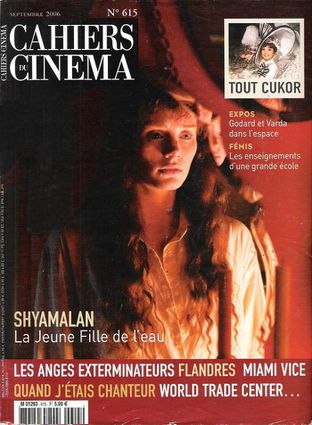 Lady in the Water
is the only Shyamalan film to make it onto Cahiers'cover page and its review by Jean-Philippe Tessé, who is now the joint chief-editor, clearly articulates what the magazine admires in Night's films.
Tessé

contextualizes Shyamalan's place in the magazine in his intro:
"The enthusiasm we have at Cahiers for the cinema of M. Night Shyamalan since his breakthrough into Hollywood will not diminish with Lady in the Water. The laughing at it by some people will not change what we think.

Simply because it confirms the certitude of finding in Night's films a cinema of constant action. Just because it places this within a grotesque fable with crazy theories, we can't help but be ecstatic because we place Shyamalan as the cineaste le plus farfelu de son temps. His use of comedy is the key to enter into his films."
In the review the impressive set (the swimming pool motif which was anticipated in Unbreakable) and décor are acknowledged. But more importantly Tessé writes,
"The encounter with an entity that is so radically strange is for the filmmaker the privileged motivation for him to make these fictions. That which comes does not bring with it order, but comes in the marvel of itself to create these new connections, they are strange unknowns. Shyamalan films this encounter like nobody else, the moment of pure newness, and he does it in the most simple of ways, by letting things just be there, framing the shot in its after-moments."
For Shyamalan, "there is something that you need to be ready for his films, which is that of amazement, if you want to enter his game." Tessé continues,
"It is by replaying indefinitively this primitive scene of amazement that Shyamalan was able to find a style. He hasn't really reinvented storytelling (though his storytelling grammar is unique to him alone) but instead he has redefined the fantastical. To say it differently: there is a pact between the spectator of a Tourneur film, that believes in supernatural forces, and the person who doesn't, or who hasn't adjusted their belief system to allow for it [...] Nothing else interests Shyamalan, not the ravaging twists that end some of his films, nor metaphors that we want to read into some others, nor the ways that the fantastic is manifested: Nothing else interests him then this opening, this brutal change of coordinates, a total upheaval of perspective."
Tessé also writes about how "the scene captures this stunned response, that dictates everything: these scenes of action, that go in unexpected new directions, time which is standstill, and the tone of the scene is infinitively comic." And after bringing up some farfetched scenes in the film, Tessé acknowledges their ludicrousness, "You would be right, they are aberrant. Welcome to M. Night Shyamalan, cineaste and joker." And this combination, as Burdeau also elaborated on, Tessé sees as "the alliance stunned-comic can be described in one word: burlesque."
Tessé

expands, "Shy is a burlesque, which is a primitive category, who dreams of being a fabulist full of humor and that is when he is at his best: when he is being comic."
To also note about Lady in the Water, the book The Cookbook by the Night character in the film which he describes as "it is actually about my thoughts about all of our cultural problems," and along with the child psychiatrist character in Sixth Sense, seems to anticipate the book Shyamalan is about to publish Schooled: The Five Keys to Closing America's Education Gap about the high-school educational institutions in Philadelphia.
There are some other think pieces about Shyamalan that have appeared in Cahiers aside from their reviews. The important piece is Années Hollywood: Shyamalan, Sodergergh, Penn, Mann, Spielberg, Eastwood (July-August '06, N.614). In this issue the editor of the time Jean-Michel Frodon has a good editorial, Bouger les lignes, Stéphane Delorme has a good overview of contemporary Hollywood, Sur Les Auteurs d'Hollywood, and Hervé Aubron has an article, Shy en miroir avec Mann, which compares the films of M. Night Shyamalan with the films of Michael Mann.
Another good article appeared in their Les Meilleurs Films des années 2000 issue (Jan '10, N.652) in the Cinq cineaste pour les années 2000 section and it is written by Bill Krohn (I will hopefully translate that in its entirety at a later date).
I'm not going to discuss the films that Shyamalan only contributed the story too, or screenplay, since he did not direct them so they do not reflect accurately his temperament. Stuart Little has Shyamalan's water motif and his outsider figure is literalized as a mouse, and Devil has elements of the supernatural and family trauma (and a great Joshua Peace performance as Detective Markowitz) but they are minor works and Cahiers sees them as such.
The Happening
(Cahiers, June '08, N.635), w/ Cahier Critique by Emmanuel Burdeau, Tombée de la nuit.
Each time a new film by a director the review in Cahiers reevaluates them by highlighting what made their prior films good, evaluating the new film, and criticizing their flaws. They are building upon the earlier reviews written about the director in the magazine and the writer's review is distinct for their own unique writing style.
In Burdeau's review he acknowledges that Cahiers is a minority when it comes to appreciating Shyamalan. He then brings up the difficulty Cahiers had to watch in advance The Happening so that they could review the movie. There was an interview with Shyamalan that fell through, the film was not playing in the US, so Burdeau ended up having to catch a plane to Spain to watch it.
And the film deceived him… But regardless, Burdeau still found interesting things to say about it,
"The spectator is warned, this new film is another exercise in reading: less an explanation of a text then a favorable plea for the never-ending activating of reading […] The films of Shyamalan have no other concerns. Nor other messages. The mysteries in them cannot be resolved, only translated and retranslated to no end from one language to another, now in the thickness and within the oscillation of so many voices."
"The tone is Shyamalian," says Burdeau, "which means that it is hard to pronounce with usual language. Wonderful and cryptic. Exotic and comic. Cryptic and spiritual. Mischievous and furiously intellectual. This is a weird kind of structuralism: the film does not construct an intrigue, it's happy to measure an advance towards dread and also the pleasure that goes into action when there is an intelligence to the happenings that are put forth into action."
Burdeau: "I insist: this isn't a spectacle, it's a lecture; it isn't about the action, it's about thought; it isn't a screenplay, it is a fable." And, "like in The Birds which is the inspiration for all of Shyamalan's films, the catastrophe is like the magical resuscitation for the dysfunctional family." Burdeau also compares the haunted house scene to Indiana Jones.
But Burdeau sees a fault in the film, "The decision to not give an explanation to the happening as anything but nature is the films biggest problem, the biggest rupture with Shyamalan's other films." He goes on, "What is lacking in The Happening is not an explanation or even more action scenes. What is lacking is dialogue that would resonate with the smallest of detail and the whole. Shyamalan is a grand painter of the everyday because he saw the larger picture, the text of all the other texts." And that the environmentalist message of the film is simple.
Burdeau gives Shyamalan the benefit of the doubt, "This disaster of a disaster film might have something to do with its production that went through several producers." Burdeau hopes that Shyamalan's next film will be better, and as the little girl on the bus turns around, her backpack reveals a graphic for Avatar: The Last Airbender.
The Last Airbender
(Cahiers, Sept. '10, N.659) w/ Répliques by Vincent Malausa, Une Page Blanche, and an interview, Air Shyamalan, by Malausa and Jean-Sébastien Chauvin.
This is an important issue in the development of Cahiers since its new chief editor took the role late in 2009. There was at first an uncertainty of how to direct the magazine (e.g. small polemics: an anti-
Fellini stance, destroying Funny People etc) but with each passing year
the magazine's positions became stronger. The most vocal stance is perhaps their railling against the petrification of severity in contemporary art-house films,but they are also known for their championing of American films and world cinema.
What makes Cahiers N.659 so special, with a still of Antony Cordier's Happy Few on its cover, is its Événement, Nouvelles utopies du cinema francais. In the issue Delorme speaks of and is critical of the trend in French cinema of "mettre en scene des utopie." Where he sees in these idealist utopias an escape of the urban and its realities, which for a long time has been the emphasis of French cinema. Delorme asks, "What direction are these fictions going in? Why a closure, which takes place in the form of a denial, to substitute for another closure, that of the social?"

Delorme prefers Des homes et des dieux against Homme au bain and Happy Few.
This idea of the utopia of French cinema is going to be something the magazine will return to. The idea of taking a position and then being commited to it will start to be more important in Cahiers after this issue. This is articulated through the magazines stronger emphasis on their use of meta-textual references. By referencing other articles and other issues there is a stronger interconnection between each issue and this bond is making the magazine more dense with connections, more clear and thorough with its argument, and more convincing and interesting.

In Cahiers N.659 the magazine praises Uncle Boonme by Apichatpong that would make it on their Top Ten Films of 2010. There are also similarities between the Apichatpong film and Shyamalan's The Last Airbender with their use of nature and spirituality. Apichatpong has also acknowledge his admiration of Shyamalan. Through how the directors in them present folliage there is a connection between Boonme, The Happening and John Boorman's The Emerald Forest.
To return to The Last Airbender: Malausa isn't necessarily convinced that it is a major work and describes the film as a "visual kitsch cocktail that mixes the wuxia with the teenage film and Lord of Rings to create a digital cosmologic folly." Some highlights of the film include: "its opening in the radiating clarity of Greenland that can be seen as the blank canvas that Shyamalan will unleash his imagination," and Malausa compares the energy of the child to that of Tintin. The film has some other interesting qualities like the dichotomy between Aang and the son of the fire god, which can be seen as two sides of Shyamalan's character: one wants to create magic and mystery while the other wants to fulfill his duties (ie. commercial imperatives). Malausa ends the pieces by highlighting Airbenders tragic quality that connects it to Shyamalan's other films, "The Last Airbenders articulates around this idea of tragedy which is that of children, who are condemned to carry the weight of the world of their shoulders, and have to start acting like adults."
Air Shyamalan
is the first interview with Shyamalan in Cahiers. The interview is interesting as Shyamalan talks about the minimalism of filming nature, how The Happening was inspired by Village of the Damned ("I saw this film when I was twenty and it has never left me."), about the special effects in the film, faith in the medium, his multiculturalism, that his favorite filmmakers are Hitchcock, Kubrick and Kurosawa; talks about courage and terror, and his admiration for Agatha Christie and Planet of the Apes.
Even though Night is a championed director at Cahiers they acknowledge the flaws in some of his films, when they deserve it. What is the big difference between Cahiers and how most other critics view Shyamalan's work is that Cahiers approach his films with a generosity instead of condescension. Shyamalan's films necessitate the viewer to take a leap a faith to best appreciate their unique and mysterious vision.