In the latest issue of Cinema Scope (N. 45) Adam Nayman has his first cover article and it is on Athina Rachel Tsangari's
Attenberg
(for his review, go
here
), which opens January 21st at The Royal (608 College St. West). While his class
In Nayman's terms
recommences Monday January 17th at 7PM and that is at the Miles Nadal JCC (750 Spadina Avenue). I recommend to go to both. This is the second time, at least since I moved to Toronto, that Cinema Scope used its cover article to feature a film distributed by filmswelike, the first being
Uncle Boonmee
, while I now anticipate their most recent acquisition Thom Andersen's
Get Out of the Car
. One thing that I like about the magazine are the movies Mark Peranson highlights, whether it is Andrei Ujica's
Autobiography of Nicolae Ceausescu
that premiered at Cannes, Gianfranco Rosi's
El Sicario Room 164
that premiered at Venice, or Tony Scott's
Unstoppable
that is now playing at the multiplexes. I eagerly anticipate seeing them at the first chance I get. Anyways, great issue (thanks Andrew for hooking me up with a copy).
Just to reiterate, the
raison d'être
of Toronto Film Review is as an outlet for me to take a movie or book and to use the post as an excuse to watch more movies and do a literature review for the purpose to have a better understanding of the subject at hand as well as improving my capability to articulate myself on that subject. I also want to provide something new and highlight a film that might go under-the-radar especially in the context of the Toronto film community. The 180° has a couple of good writers, and to name two: Noah Cowan and Andrea Picard. While I look towards the big film criticism magazines for contemporary movie reviews, so magazines like 24 Images, Cinema Scope, Cineaste, Film Comment, Cahiers du Cinema and Positif. Whichever one I have at hand. So I try to avoid writing about whatever is already adequately covered. Now that I work at the shop, I will use that as an opportunity to focus more on book reviews in the format of The New York Review of Books and two projects that are currently in the works is a film review of Gaspar Noe's
Enter the Void
and, hopefully, a book review of James Quandt's
Apichatpong
(hey Film Reference Library, how about you open your screening rooms so that I can finally watch Joe's
The Adventure of Iron Pussy
). After that, I would really like to write something on the new Catherine Martin film, which is part of
Canada's Top Ten
.
What else is there to see? Godard's
Film Socialisme
, Patricio Guzman's
Nostalgia for the Light
, the Bertolucci movies, the Spanish experimental cinema, Chaplin and Pickford, whatever Essential Cinema is left, and, of course, James Quandt's Hollywood classics. Non-Lightbox movies includes Sofia Coppola's
Somewhere
, Derek Cianfrance's
Blue Valentine
, Mike Leigh's
Another Year
, and Sylvain Chomet's
The Illusionist
. Also, the Bloor is playing
The Mouth of the Wolf
. And for a very special treat on December 28th there will be a Robert Mapplethorpe exhibition at the Olga Korper Gallery (17 Morrow Avenue), which is running until January 15th.
*****
City Lights
(Charlie Chaplin, 1931)
**** (Masterpiece)
*****
Film Socialisme
(Jean-Luc Godard, 2010)
**** (Masterpiece)
*****
Limelight
(Charles Chaplin, 1952)
**** (Masterpiece)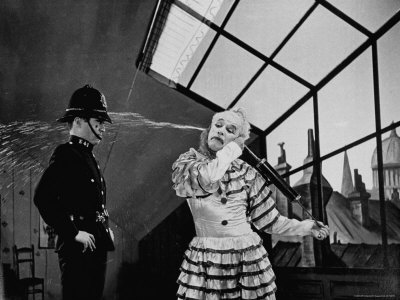 *****
The Mouth of the Wolf
(Pietro Marcello, 2009)
*** (A Must-See)
*****
True Grit
(Joel & Ethan Coen, 2010)
** (Worth Seeing)
*****
Monsieur Verdoux
(Charles Chaplin, 1947)
**** (Masterpiece)
*****
Little Buddha
(Bernardo Bertolucci, 1993)
** (Worth-Seeing)
*****
Somewhere
(Sofia Coppola, 2010)
*** (A Must-See)
*****
Sparrows
(William Beaudine, 1926)
*** (A Must-See)
*****
The Last Emperor
(Bernardo Bertolucci, 1987)
*** (A Must-See)
*****
Breathless
(Yang Ik-Joon, 2009)
**** (Masterpiece)
*****
Partner
(Bernardo Bertolucci, 1968)
*** (A Must-See)
*****
Incendies
(Denis Villeneuve, 2010) * Director in attendance
*** (A Must-See)
*****
Curling
(Denis Côté, 2010) * Director in attendance
**** (Masterpiece)
*****
Culloden
(Peter Watkins, 1964)
**** (Masterpiece)
Early Monthly Segments
*****
Trois temps après la mort d'Anna
(Catherine Martin, 2010)
*** (A Must-See) Director in attendance
*****
Nostalgia for the light
(Patricio Guzmán, 2010)
*** (A Must See)
*****
ATTENBERG
(Athina Rachel Tsangari, 2010)
** (Worth Seeing)
*****
The Agony and Ecstasy of Phil Spector
(Vikram Jayanti, 2009)
**** (Masterpiece)
*****
The Robber
(Benjamin Heisenberg, 2010)
** (Worth-Seeing)
*****
Dogtooth
(Giorgos Lanthimos, 2009)
*** (A Must-See)